There are many reasons why my kids and I set a "resolution" (we prefer to think of them as goals) of writing letters to their friends & family.  Many of our friends live 3 thousand miles away in NY and with the time difference and our busy schedules, we do not call as much as we should – plus the kids LOVE getting mail!  When I heard about the Post Pal Club, I knew that would be a super fun way to kick off implementation of our goal!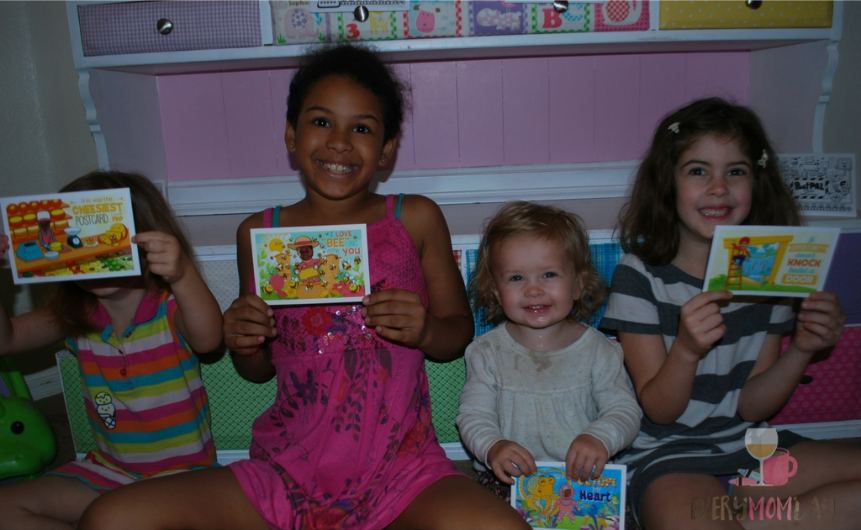 The Post Pal Club provides 4 personalized postcards per month for your children to write on and send to their loved ones- and they are personalized in a super fun way!  You submit a photo of your child when you order your subscription, and Post Pal Club photoshops your child's face into the illustrations on the front of the card, and then adds a small graphic personalized with their name on the back.  Of course, you have your area to write and address your postcard too… but, the part that makes it super-mommy-friendly?
All postcards from Post Pal Club come pre-stamped!
Click To Tweet
The kids loved receiving their Post Pal Club subscription in the mail, and it arrived in an envelope that doubles as a coloring sheet.  Every element of this product was well-planned for optimal enjoyment!  We had a quick lesson on how to fill out a postcard, then my kids prepared their letters based on their age and skill-level.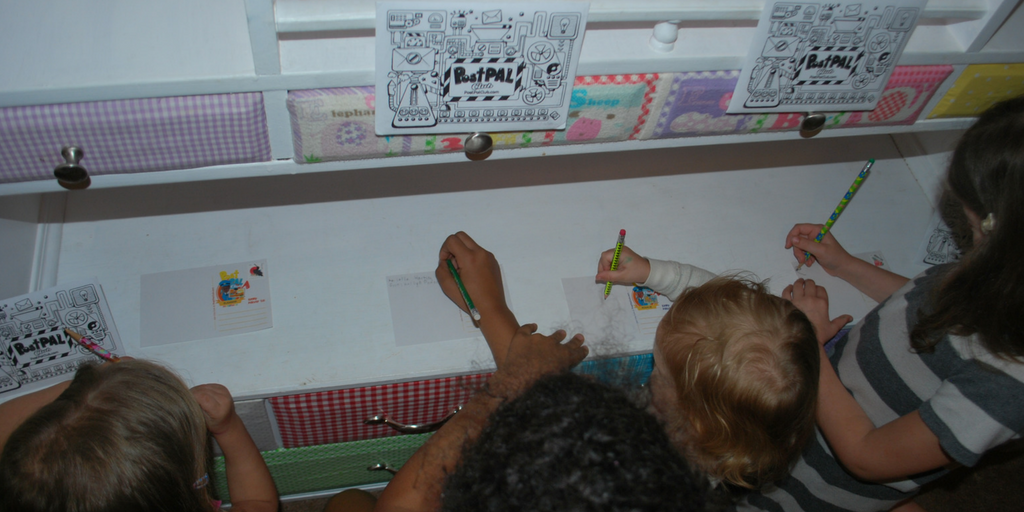 K, Age 9: Quickly took to writing a letter to one of her BFFs from back in NY.

A, Age 5: Practiced spelling and letters through writing some simple sentances, her name and date.

E, Age 3 & R, Age 1: Used stickers and scribbles to decorate their postcards.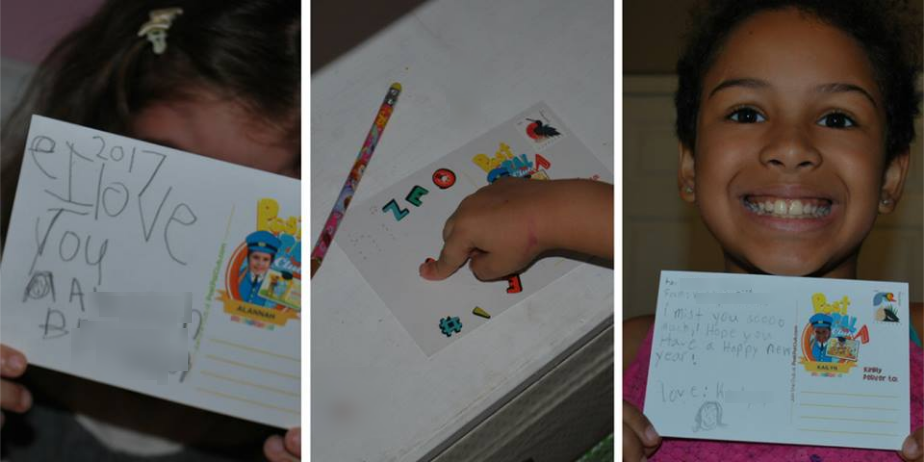 The kids loved receiving the Post Pal Club subscription in the mail, and in one weekend each girl composed one postcar.  Now, we have 3 postcards each & 3 weeks left before our next packs arrive in the mail – one card to mail every weekend!
Who did we send the cards to?  We can't ruin the surprise for the recipients – but we hope they will love them when they arrive!  We also hope that this will encourage some others to Post Pal with our children and with each other.