Locally owned Mortimer Farms has announced it will once again hold its annual Pumpkin Festival & Corn Maze event every weekend in October plus Columbus Day. At the center of this huge festival will be the farm's 40-acre Pumpkin Patch plus a 15-acre Corn Maze.
Every year the Mortimer Family cuts the corn with a descriptive picture in the middle of the maze. Last year was the logo of the Phoenix Children Hospital. This year the corn is sculpted into a picture of Donald Trump and Hillary Clinton dancing hand in hand.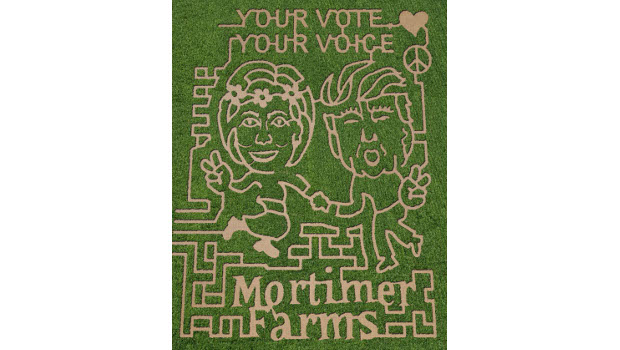 Gary and Sharla Mortimers' goal is to create memories for families plus share their love and passion for agriculture on the 300 acre farm. As in past years there will be many attractions, games, farm activities, hay rides, entertainment, and much more.
The brand new Farm Park features educational interactive display boards, old fashion farm rides and new this year Gem Mining. Admission, which covers all rides, is $15 per person. Kids 2 and under are free. There are several other pricing options for the festival this year listed on the farm web site.