Mother's Day is this coming weekend, and I am thrilled and honored to be partnering with Linqia and Gerber Brand to share an "It's all worth it" moment with you!  Gerber is the brand I trust most as I raise four little 
Gerber babies
 of my own – and I love that I am now able to partner with such an amazing company to share this heartfelt message on a weekend that means so much to me – as a mom.
I always wanted to be the woman who glowed during pregnancy – cherishing every kick and opportunity to eat ice cream without judgement.  Unfortunately my body does not agree with pregnancy and each pregnancy posed more risks than the one before.  Many people questioned why we chose to have a fourth child last year – Some did not understand why we wanted "so many" children, others did not understand why we became pregnant following a history of high-risk pregnancies.  I'll tell you why: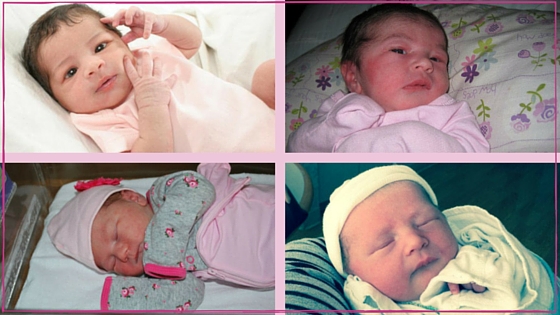 Every little bit of pain and discomfort, every blood draw and non-stress test – it's all worth it when you hold that tiny wiggly baby for the first time, looking into her eyes as she tries to focus on you.  Cuddling with her through sleepless nights and tired days.  First coos, first teeth, first foods.  And Gerber is there through it all – providing everything our babies need nutritionally from formula (to supplement or replace breast-milk as necessary) to baby food for every stage of a baby's development #GrowingUpGerber.
As we approach Mother's Day this weekend, I have been reflecting on my mommy moments: the love I have for the babies/kids who made me a mom & the amazing memories we are making.  Just this week I found myself making a run to the store with all the kids in tow.  We spend quite a bit of time perusing the store for steals and deals – especially in the baby aisle.  There is such a wide variety of Gerber baby foods, and I like to pick up a fun variety of foods for the baby (gotta start building healthy habits young!), but sometimes the kids get restless waiting for me to make my selections.  They get restless when the cart stops rolling!
Seeing my kids love each other makes being a mom worth it. #ItsAllWorthIt #GrowingUpGerber #ad
Click To Tweet
My 8 year old knows how to make everything better – the natural entertainer starts singing and dancing… and before you know it we're all singing and dancing.  The girls' giggles were infectious.  Random shoppers in the store smiled, giggled, and some even sung a few notes and did a little dancing themselves.
Leaving the store, I reflected on how lucky I am.  Not only did I get all the Gerber products I went for (and more!), but we made an incredible memory and I am fairly certain we made the lives of others a little happier that day.  This Mother's Day – and everyday – I am reminded of how much I love these girls.
I am lucky to have them and they are so lucky to have each other.  It's not all rainbows and butterflies – but it's all worth it!
Share a moment that makes it all worth it for YOU in the comments below!
Share a moment that made being a parent all worth it. #growingupgerber #itsallworthit #ad
Click To Tweet
---
Thank you to Gerber for sponsoring today's post and inspiring me to share the moments that make it all worth it!