Weekday evenings are the busiest time of day for my family.  We have to do school/babysitter pickup, dinner, homework, and our bedtime routine – times 4 – all in just over 2 hours.  It can be difficult to make evenings enjoyable and not just a rush to get everything done.  I am always looking for creative ways to make ordinary moments extraordinary, and this week Goldfish crackers helped make that happen!
(Making smile-worthy moments does not have to be expensive or time-consuming.  Everything in this blog post happened in that typical 2-hour window I have in the evening!)
It's tempting to do grocery shopping trips alone when I can, because let's face it – it's easier.  But, the kids love the grocery store and there are so many opportunities and ways to make the experience positive for everyone, so I try to plan a trip with the kids (at least a small one) every couple of weeks.  Here are some of my suggestions for making shopping with kids fun & educational:
Games.  "I Spy with my little eye…" is always a favorite of ours!  You could spy things with colors, prices or shapes.
What's Next? Give your kids some clues as to what is next on your list – then let them help you find it.
Math Skills. Ask age-appropriate questions or give tasks.  Which fruit is heavier?  Which is longer?  We recently started encouraging my oldest to keep track of how much we are spending – at checkout she gets to see if she was right!
Choices.  Let them pick which Goldfish crackers they want to purchase for the week – this is a great way to give them some control over the snack you already know you want to buy!
Snacks. Many grocery stores offer snacks, take advantage of them!  Our local store offers freebies in the produce department and the bakery.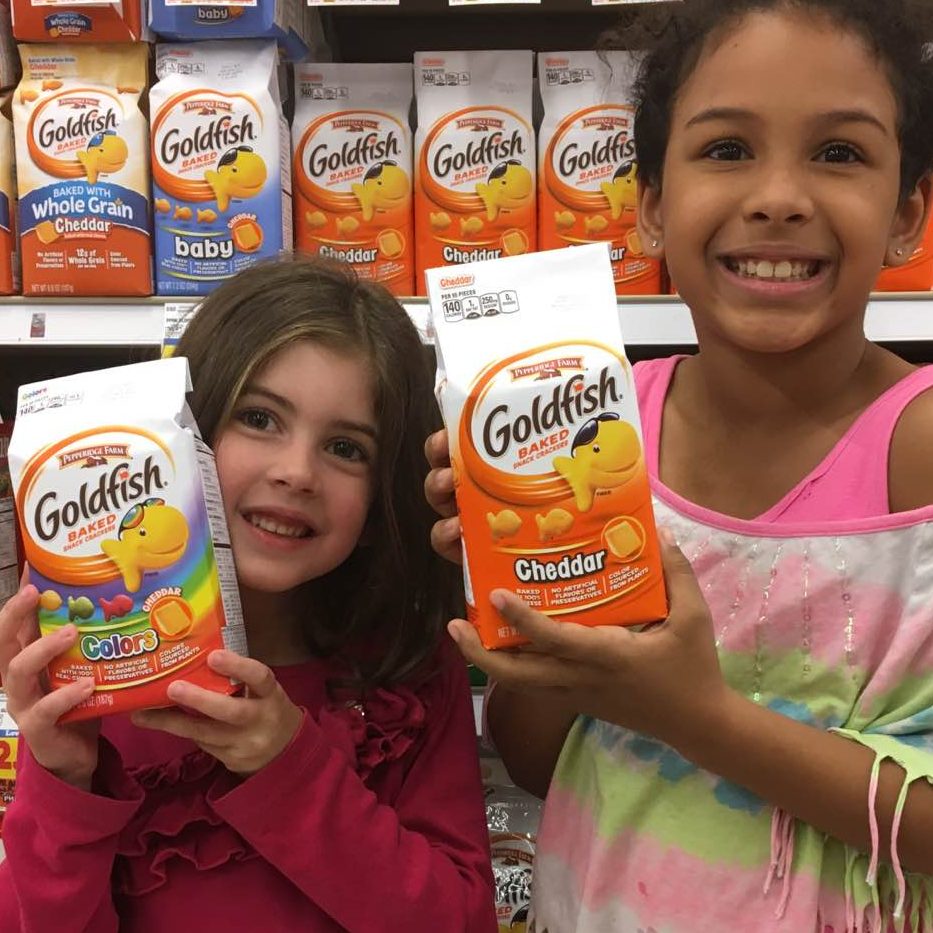 Goldfish crackers are one of those snacks that I never hesitate to offer my children – even right before dinner.  They are a go-to snack choice for the car ride home from school (since my older kids have a long commute back home).  Goldfish crackers are always baked with real cheese and they do not have any artificial flavors or preservatives, and Goldfish Colors are sourced from plants, such as annatto extracted from the reddish seeds of the Achiote Tree.  I always preferred the colors, my husband swears it's just my mind playing tricks on me, but I am convinced that those extracts work some magic on the Goldfish Colors crackers!   😉
When it's time for homework, Goldfish crackers make amazing counters for math help.  My kindergartener uses them to practice her math facts and gets to eat the answers when she gets them correct.  Using the Goldfish crackers is a creative way to make math more fun while she learns.  After trying this with her once, she now asks to practice her math facts whenever I offer her Goldfish crackers – you can not beat that!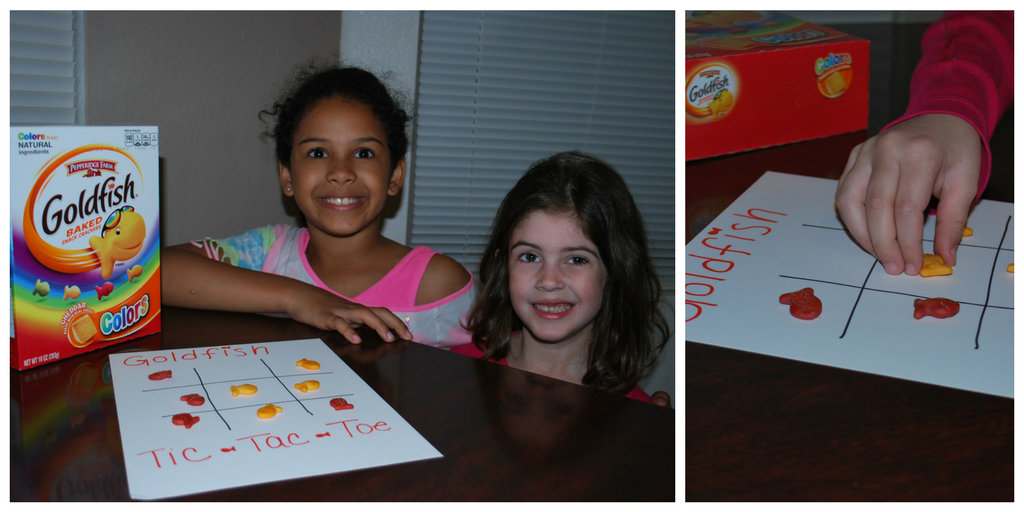 When homework is completed and it's time for me to put the kids to bed, I always start with the little two.  My school aged kids have taken to playing a friendly game of Tic-Tac-Toe (or two) in which the winner gets to eat the game pieces.
Both the game board and flashcards were made with paper (index cards for the flash cards and card stock for the game board) and permanent markers.  Quick and easy – and no artistic abilities needed!  During a time when it's so easy to get sucked into the hustle and bustle of life, it's so important to make special moments with the kids.  Amazing doesn't have to be expensive or time-consuming – something as simple as adding Goldfish crackers to your normal routine can spark imagination, education, and smiles within your family.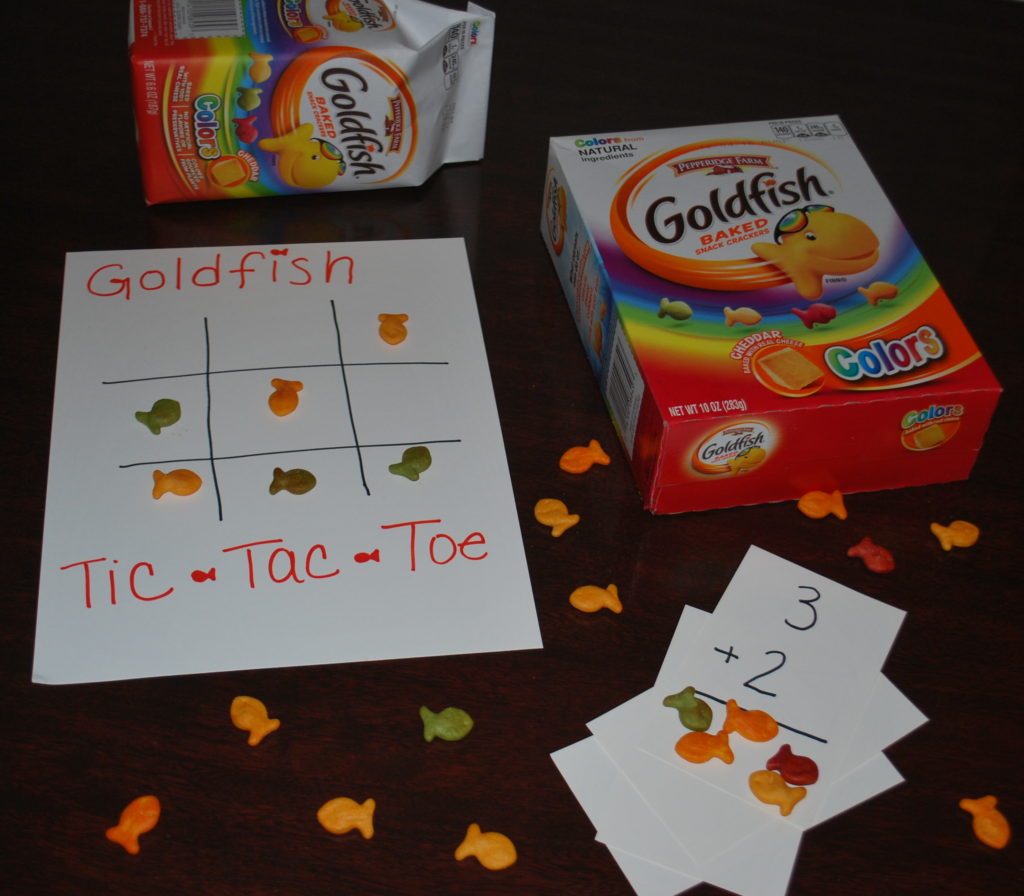 Another great idea, probably best to save for the weekend in my case, is to create a stop motion video using your favorite Goldfish crackers – then you can enter your video for a chance to win $5,000!  Visit GoldfishTales page for inspiration and information on how to enter the Goldfish Tales Animation Xperience.