Even if the kids don't need a night light to sleep – this is one of those things that you just have to get anyhow because it is so creative and fun!  I was so excited to have the opportunity to review a 3DLIGHTFX 3D Deco Light and share my honest opinion with you all – because honestly, I knew my kids would love this!  I created this list of the  5  6 things that make it the coolest light for a kid's room, den, play area, etc.  The possibilities are endless!
1.  The Designs – 3DLIGHTFX 3D Deco Lights come in so many kid-favorite designs that not only is there sure to be one perfect for your child – there will likely be multiple that you love and have to choose between.  They have a full range of comic book, super hero, Disney Princess, sports and car lights that look as though they are popping right out of the wall!
2. The decals – All lights include a crack sticker to really give the effect of the product breaking through the wall. For some of the designs it's a really cool "shatter" and "crumble" design – with our Pinky Pie it's much more cartoony – consistent with the character.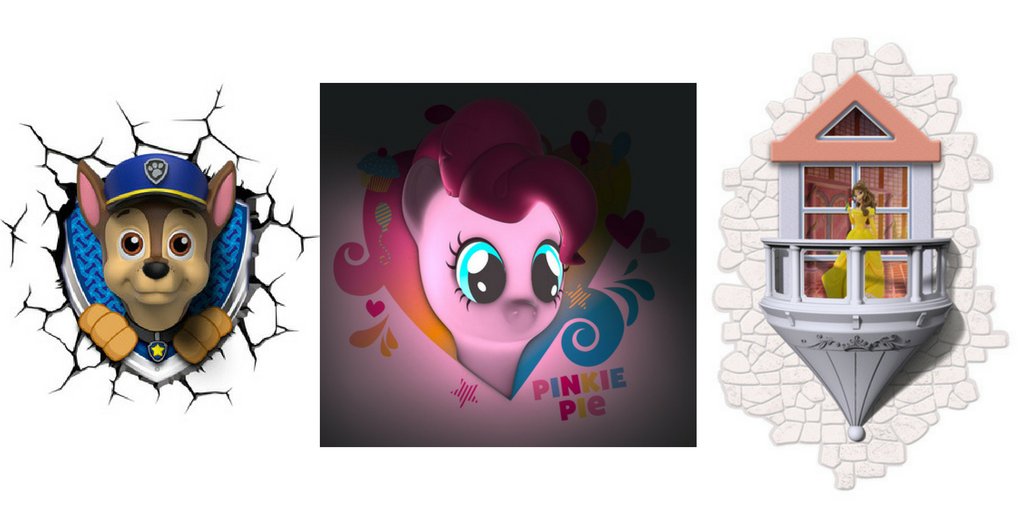 3. Easy installation – the 3DLIGHTFX 3D Deco Lights decal applies to any flat surface and once applied there are fool-proof marks where the screws need to be inserted into the wall so that your night light rests perfectly aligned with the decal. My husband was grateful for this – not because he installed the light, or needs fool-proof instructions, but because I do! Usually, when hanging something it involves me poking at least 3 holes in the wall – times the number of screws that are being used! Even when I use my ruler and level, I just can't get it right. Not this time – the decal told me exactly where the screws needed to go and I got our light hanging on the wall/decal perfectly the first time!

4. Battery operated – no ugly or dangerous cords! That means you can install these adorable lights just about anywhere. It doesn't need to be near an outlet, and no cord to pose safety risks!
5. Cool – to the touch!  I was able to install our 3DLIGHTFX 3D Deco Light right next to her bed because I know it wont get hot to the touch, and of course there are no cords!

6. That face!  I know I said there would only be 5, but, that face!  She was so surprised and so in love with her new Pinky Pie night light!
Find all of these amazing products at Target & Target.com.